Bishop Tony Green Episcopal Seal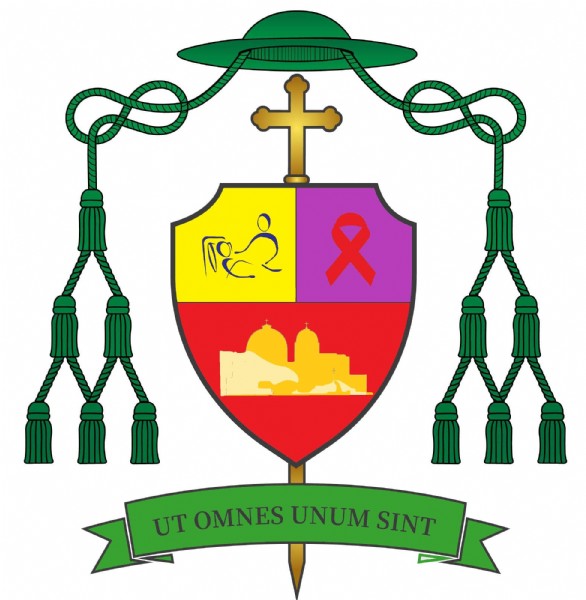 Bishop Anthony Green
Auxiliary Bishop
Diocese of Little Portion

Episcopal Seal Meaning
Upper left - Symbol of a caregiver/chaplain at bedside with a sick person. I have served as a chaplain for more than 20 years and caring for the sick and dying is a very important part of my charism and vocation. The color yellow represents joy, the presence of God in the ministry of presence, and God's anointing.
Upper right - Red ribbon that represents HIV/AIDS. I had five foster children, all of whom were infected or affected by HIV/AIDS. My husband and I both have worked tirelessly to advocate and help make life better for those living with HIV/AIDS. The color purple represents passion and humility. It also represents the royalty of people living with HIV/AIDS in the eyes of God who liberates the oppressed.
Bottom symbol - The Church of the Holy Sepulcher in Jerusalem. I had a mystical experience while attending a Mass at the Church of the Holy Sepulcher. The body of Christ was consecrated on the stone that Jesus was laid on after his death and then rose from the dead. It was at that moment that God led me to search for a sacramentally centered church, and that led me to CACINA. The color red represents life sustaining blood and the blood of Christ. It also represents the power of the Holy Spirit.
My motto is Ut Omnes Unum Sint – which comes from Jesus' prayer "That they may all be one." This is the motto of the United Church of Christ where I spent the first 15 years of my ministry, and the Spirit led me to take it as part of my episcopal seal when I was consecrated a Bishop with CACINA.