Leadership Team
Bishop Tony Green, FCR, Founder and Pastor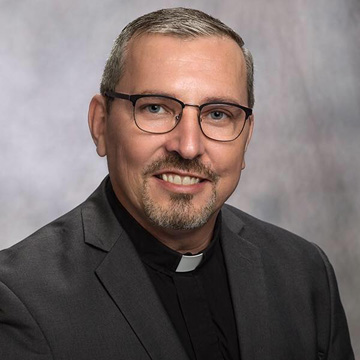 Bp. Green grew up in Guntersville, Alabama – located at the foot of the Appalachian Mountains. Bp. Green joined the US Army just before graduating from high school and was then stationed at Fort Carson, Colorado. Bp. Green moved to the east coast after completing his military service and began working in the criminal justice system, he also worked as a housing advocate for people living with HIV/AIDS.
Bp. Green earned an Associate of Science Degree in Criminal Justice, a Bachelor of Science Degree in Human Services, a Master of Divinity Degree, and a Doctor of Ministry Degree. Bp. Green's doctoral thesis is focused on the impact of ethical decision making on moral distress in nursing practice.  https://digitalcommons.liberty.edu/doctoral/3178  He is also a Board Certified Clinical Chaplain with the Spiritual Care Association.  Bishop Green is on the Board of Directors for the Albany Community Action Partnership.
Bp. Green was an ordained minister with the United Church of Christ for more than 15 years prior to converting to Catholicism in the Catholic Apostolic Church in North America in 2016. Bp. Green founded St. John of God Parish, which serves as a community parish in the Capital District of New York. Bp. Green has been a hospice and hospital chaplain for the past 20 years. He is currently Director of Pastoral Care at Ellis Medicine, in Schenectady, New York. Bishop Green is a Friar with the CACINA Franciscan Community of Reconciliation.
Bp. Green and his husband, Perry, have been together for 15 years. Perry is the Executive Director of the Albany Damien Center, a social service and housing program for people living with HIV/AIDS. Bp. Green and Perry have an adult son and six grandchildren. They enjoy traveling, spending time with family, and they are passionate about the work to help the least of these.
Father Victor Desantis, Co-Pastor Emeritus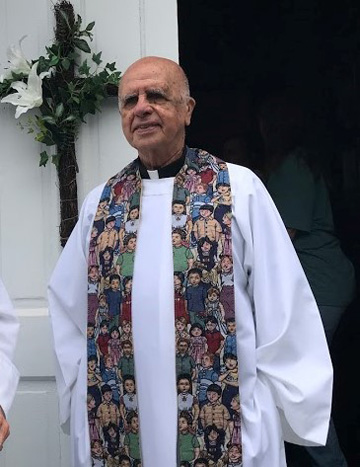 Fr. Victor grew up in Amsterdam, NY, and graduated from St. Mary's Institute. He then attended St. Bernard's Seminary in Rochester, NY, and received a Bachelor of Science degree with a major in philosophy. He then attended the North American College Seminary and studied at the Pontifical Gregorian University - both in Rome, Italy. He received a Licentiate in Sacred Theology.
Fr. Victor was ordained a Roman Catholic Priest at the North American College in December of 1960. He returned to the Albany, NY, Diocese and was assigned to minister at St. Anthony's Parish and to teach Theology and Latin at Cardinal McCloskey High School. He attended Siena College (nights and summers) and received a Master's Degree in Education. He also was the Guidance Director at Bishop Maginn High School in Amsterdam.
Fr. Victor resigned the Roman Catholic Priesthood in 1970 and was married to his wife Mary in 1971. They moved to Maryland where he worked for six years in various capacities at Anne Arundle and Montgomery Community Colleges. He then was the Director of Continuing Education for three years at the University of Scranton. Upon moving back to the Albany area he worked in various areas retiring in 1979 as the Director of Career Development at the University at Albany. He also assisted in various capacities in the Albany Diocese and a few diocesan parishes. He was a part-time Chaplain at Memorial Hospital.
Fr. Victor joined the Catholic Apostolic Church in North America (CACINA) in 2015 and became a co-pastor at St. John of God Parish with Bishop Green. He is also a part-time Chaplain at Ellis Hospital, Ellis Hospital Nursing Residence and Pathways Nursing Home. He is on the CACINA staff for the training of seminarians.
Fr. Victor has been married to Mary for 49 years. They have three children, eight grandchildren, and six greatgrandchildren.
Mary J. DeSantis, Pastoral Care Associate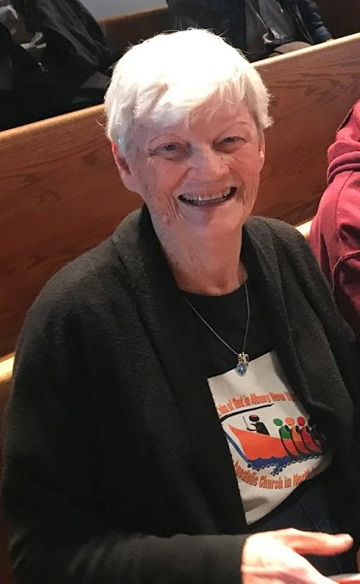 Mary is a wife, mother, grandmother, great-grandmother, and serves on the Spiritual Staff of St. John of God Parish located in Schenectady, New York.
Born and raised in Amsterdam, New York, Mary attended St. Mary's Institute, located in Amsterdam, from kindergarten straight through to graduation. Following high school graduation in 1961, Mary attended The College of St. Rose in Albany where she majored in Latin and Greek Studies with a minor in Secondary Education. Three years thereafter she taught school locally before pursuing an advanced Degree in Counseling and Education at The University at Albany (New York) earning a Masters' Degree in 1971. That same year she married Victor DeSantis and relocated to Maryland where she worked in the Career Development Center for the School of Education.
The birth of her first child in 1972 saw Mary taking a leave of absence from UM. At such time she sought part-time employment to allow her time with her daughter. In 1973 Mary began developing and marketing interpersonal communication skills programs which she taught for three years. Her programs, tailored specifically to serve business, education, government agencies and health care fields were successfully received. With the arrival of her second child in 1975 she continued with the workshops and seminars she had already marketed and began to offer such programs to community groups as well.
Also in 1975, Mary and Vic moved their family to Scranton, Pennsylvania. It was there in 1977 her third child was born. Once again Mary put her work on hold and devoted her time to family and school and pre-school related activities which she really loved.
A return to the Capital District in 1979 was most welcome. In the years that followed, Mary continued to offer the programs she had previously developed to various agencies in the community continuing to balance time between work and family. As the children grew in age Mary was able to continue offering the communication programs she had developed along with other work in the community. The Roman Catholic Diocese co-teaching in the Permanent Diaconate Program, serving interim capacities at local colleges, contract work for US Dept. of Labor and grief and loss work for Haven as well as Hospice were some of her employers. In 2004 Mary "retired" after a varied and enjoyable time in the workforce!
In 2015 Mary became a member of the Catholic Apostolic Church in North America (CACINA) finding her way to Bp. Green and St. John of God Ministry. Mary calls this HOME and finds serving God's sick, dying, frail and elderly (Ellis Medicine and Pathways) as well those in the surrounding community highly rewarding.
Mother Grace Wilgefortis Ferris, FCR, Priest Associate 
Mother Grace, the daughter of a Lutheran mother and an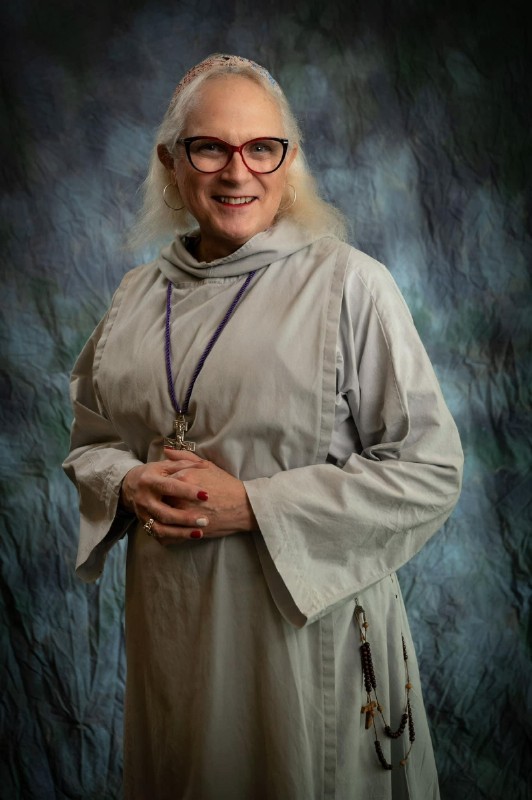 Episcopalian father, grew up in a predominantly Catholic area just outside of New York City where most of her friends and relatives were Catholic. Due to frequent moves because of her career, she had the opportunity to experience a broad range of Christian churches throughout her adult life. Most recently, she had been a communicant member of a Baptist church. Dissatisfaction with the casual nature of most Baptist churches and the desire to live a more sacramental life led Mother Grace to seek out eventual ordination in the Catholic Apostolic Church in North America.
Mother Grace retired from a long career in nonprofit administration, much of it with the American Red Cross. She enlisted in the military well beyond the age when most soldiers retire—at the age of 52. She spent a number of years as trombonist and drum major of the New York Guard's 89th Army Band. In 2018, she was commissioned a second lieutenant of the New York Guard and assigned to its 10th Area Command as chaplain. She is currently chaplain for the New York National Guard's Joint Task Force Covid. In that capacity, she ministers to service members of all faith traditions across all of upstate New York.
Mother Grace holds a bachelor's degree from Niagara University and a master's degree from Liberty University's Rawlings School of Divinity. She is a graduate of the comparative religions program at All Faiths Seminary, and has completed course work through the National Disaster Interfaith Network. She has five grown children and the cutest granddaughter imaginable.
Rev. Ferris is pastor of the CACINA St. Wilgefortis transMISSION.
Rev. Deacon Richard Moran, Jr., FCR
Candidate for Holy Orders  
Rev. Moran comes to CACINA from St. James AME Church.  He was appointed to St. James in June 2018 by the Rt. Reveren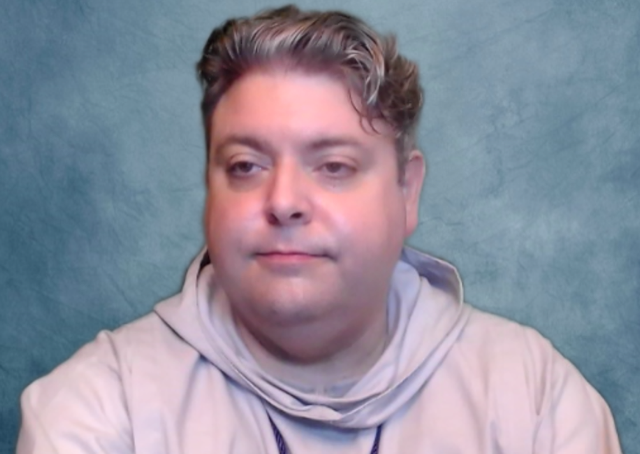 d Gregory G.M. Ingram, Bishop of the 1st Episcopal District of the AME Church. Rev. Moran earned a Master of Divinity at Northeastern Seminary, Rochester NY, graduating in May 2017, and was ordained an Itinerant Elder in the AME Church the same month.
Prior to his appointment to St. James, Rev. Moran served as the Director of Christian Education and Associate Minister at Bethel AME Church, Schenectady, NY. Rev. Moran has diverse life experience, graduating SUNY Cortland in 1989 with a BA in Theater, directing three improvisational comedy troupes, working in 911 emergency dispatch, security, and community banking. He presently works as clinical chaplain at Ellis Hospital in Schenectady, NY, and has completed four units of Clinical Pastoral Education with the College of Pastoral Supervision and Psychotherapy.
Rev. Moran believes in the liberating power of the Gospel and his ministry is guided by Luke 4:18-19, 21, "The Spirit of the Lord is on me, because he anointed me to proclaim the good news to the poor. He has sent me to proclaim freedom for the prisoners and recovery of sight for the blind, to set the oppressed free, to proclaim the year of the Lord's favor…[Jesus] began by saying to them, 'Today this scripture is fulfilled in your hearing."
Jeremy Wrobel, Altar Server
Jeremy was previously serving as a Deacon in Christ's Apostolic Catholic Church.  He is in the process of applying for Holy Orders with CACINA and is serving at St. John of God as an Altar Server in the interim. 
Jeremy has a passion for serving in the church and is bi-vocational.  He works as a Certified Nursing Assistant in a local nursing home.
Father Mike Ellis, Occasional Visiting Priest

A native of Richmond, Virginia, Mike holds dual masters' degrees in Divinity and Psychology, and was a psychotherapist for almost forty years. He and his husband, Les, lived in North Carolina before relocating to Montreal, Canada, where they spent the last decade of their professional lives.  Now in semi-retirement, they live in Vermont, where Les teaches microbiology at the local community college and Mike is a hospice chaplain.  In 2021 they will celebrate thirty-four years together, as well as their grandson's first birthday!